Hyside Inflatables – 38 years in the making…
Hyside Inflatables is the culmination of Richard "Dick" DeChant's life experience and all of the components that make a well-designed whitewater raft.   Richard began his river running experience in a raft he purchased at Sunset Sports and launched on a swollen Salt River in 1979 while he was enrolled in Arizona State University.  He quickly recognized there was a need for a higher quality whitewater raft.
-Herm Hoops 2015
As with many entrepreneurs, dogged determination was the only thing keeping a dream alive in the early years. "Oh man,", those first five years were lively," said Dick, as his Wisconsin humor deadpanned. We started in Korea, moved to Taiwan, and then back to Korea in five years. All these moves involved different factories and different ownership. The final move back to Korea proved to be the home run, teaming up with a manufacturer implementing the world's newest Hypalon coating equipment. Now it was time to develop product and meet outfitters across the US and abroad. Dick had already established rapport with outfitters from previous work with Campways/Riken. "I logged 159 trips to Korea to oversee production, design & development. I learned to acquire a taste for kimchi. Sometimes, I would be on the ground in Korea for less time than I spent in the air flying there."
At the time, the factory was only making military boats and life rafts. "I brought in new designs for river running and developed urethane coatings for the bottoms of river rafts for extra durability and sliding over rocks. This was a six year process to get it right. It was a game changer. I am very proud of what we have accomplished.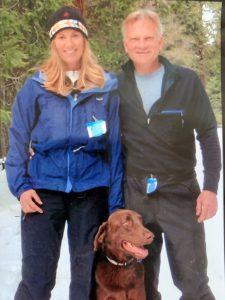 After 38 Great Years, Hyside's founder, Richard DeChant, eddies out!
"It's a good time to pass the torch," says owner and founder Dick DeChant of his recent selling of famed Hyside Inflatables.
"I want to thank my wife Marianne for putting up with my endless travel and helping me tough it out. I also want to thank her for buying my rafts!" (Marianne is co-owner of Sierra South Mountain Sports, a long-time outfitter in Kernville,CA.)
"My sincere thanks goes to all of the dealers, outfitters, and retail customers than have been such loyal customers of Hyside. I will miss their friendships and shared love of rivers as well. I plan on helping John Seiner (new owner) with knowledge and ideas to keep Hyside at the top as an industry leader in whitewater inflatables. I will always consider Hyside my baby that has now grown up and started a new life. It's been a hoot."